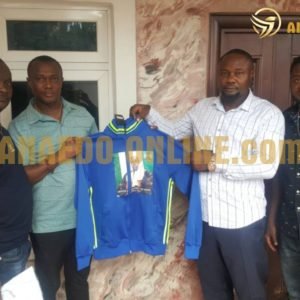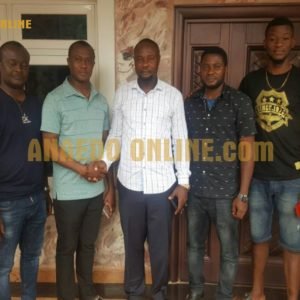 The Nwafor Orizu family represented by The Senior Special Assistant to the Governor of Anambra State on Youth Entrepreneurship, Mobilization and Strategy, Honourable Prince Nnamsom Nwafor-Orizu on Friday 17th of August 2018, paid a Thank you visit to the CEO of C.Frank Shipping Service Mr. Frank Udogu at his residence in Nnewichi.
The visit which was aimed at thanking Mr. Frank Udogu for taking part of the responsibility of sponsoring this year's Nnewi Afia Olu football tournament in honour of the former Acting President of Nigeria His Excellency Dr. Akwaeke Abyssinia Nwafor Orizu, had the presence of the Vice Chairman Nzuko-Ora Nnewi China branch, Mr. Abada Jesus and Chief Welfare Nzuko-Ora Nnewi China branch, Mr. Gideon Onwuegbuna.
Prince Nnamsom in his message thanked Mr. Frank Udogu for his financial and moral contributions in ensuring that the football tournament in memory of his late father will be a success. He said that the family of Nwafor-Orizu will forever hold Mr. Frank Udogu in high esteem for recognizing the need to celebrate the outstanding contributions of Nwafor Orizu to the unity of Nnewi and Nigeria at large.
Mr. Frank Udogu in his response said that the outstanding contributions and achievement of Rt. Hon. Akwaeke Abyssinia Nwafor Orizu remains underappreciated. Mr Frank Udogu who is also the chairman of Nzuko-Ora Nnewi in China added that Nwafor-Orizu was a man who with saw the future, with his books, speeches, projections and words over the years appearing to have been prophetic considering the current situation in Nnewi, Nigeria and Africa at large.
Comments
comments
Post Disclaimer
The opinions, beliefs and viewpoints expressed by the author and forum participants on this website do not necessarily reflect the opinions, beliefs and viewpoints of Anaedo Online or official policies of the Anaedo Online.