S. Korean ex president Lee Myung-bak was jailed for 15 years for corruption Friday, becoming the latest of the country's ex-leaders to be sent to prison.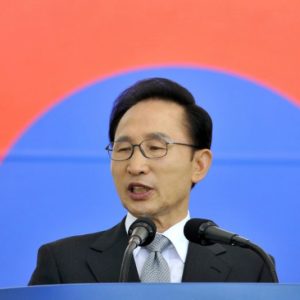 The 76-year-old CEO-turned-president, who served from 2008 to 2013, was found guilty on charges including bribery and embezzlement and ordered to pay a fine of 13 billion won ($11.5 million) by the Seoul Central District Court.
The former South Korean leader was indicted in April on 16 charges that included bribery, embezzlement, and abuse of power.
The court found that Lee was the de-facto owner of DAS — a controversial auto parts company which he claimed was his brother's — which he used to create slush funds of around 24 billion won.
Lee was also found guilty of accepting nearly six billion won from Samsung Electronics in return for a presidential pardon for its chairman Lee Kun-hee, who was jailed for tax evasion.
See Donald Trump Message To Americans After Impeachment (Photo)(Opens in a new browser tab)
A Samsung spokesman declined to comment on Friday's ruling.
"Despite objective evidence and credible testimonies, he has denied all offenses and shifted responsibilities to others by saying he was being framed," said a judge during the trial that was broadcast live.
"Bringing everything into consideration, heavy punishment for the accused is inevitable," she said.
Lee was not in attendance, citing ill-health and in protest against the court's decision to televise the ruling.
Lee earlier dismissed what prosecutors say are "incriminating" documents and testimony from his relatives and aides as "fabrications".
His lawyer called the ruling "extremely regrettable" and said the court's finding of Lee as the de-facto owner of DAS "hard to understand".
He told reporters that he will discuss appealing the verdict with Lee and reach a decision by Monday, according to Yonhap.
South Korean presidents have a tendency to end up in prison after their time in power – usually once their political rivals have moved into the presidential Blue House.
All four former South Korean presidents who are still alive have now been convicted of criminal offenses.
Conservative Lee's successor Park Geun-hye was sentenced to 25 years in prison and fined millions of dollars for bribery and abuse of power.
She was ousted last year over a nationwide corruption scandal that prompted massive street protests.
2023 Presidency: Buhari Won't Support Tinubu – Ex-Governor Reveals(Opens in a new browser tab)
Chun Doo-hwan and Roh Tae-woo, former army generals who served as president through the 1980s to early 1990s, served jail terms for corruption and treason after leaving office.
Both Chun and Roh received presidential pardons after serving about two years.
Another former leader, Roh Moo-hyun, committed suicide after becoming embroiled in a corruption probe.
Channels.
Follow us on Facebook
Comments
comments
Post Disclaimer
The opinions, beliefs and viewpoints expressed by the author and forum participants on this website do not necessarily reflect the opinions, beliefs and viewpoints of Anaedo Online or official policies of the Anaedo Online.