UPDATE: DMGS PRINCIPAL SPEAKS ON DEATH OF JS1 STUDENT, CHUKWUEBUKA EMMANUEL
The Principal / Manager of Denis Memorial Grammar School, DMGS, Onitsha, Rev. Canon Anieto Chigozie, has written the school on the sudden death of a JS1 student of the institution, who died on Tuesday, February 12.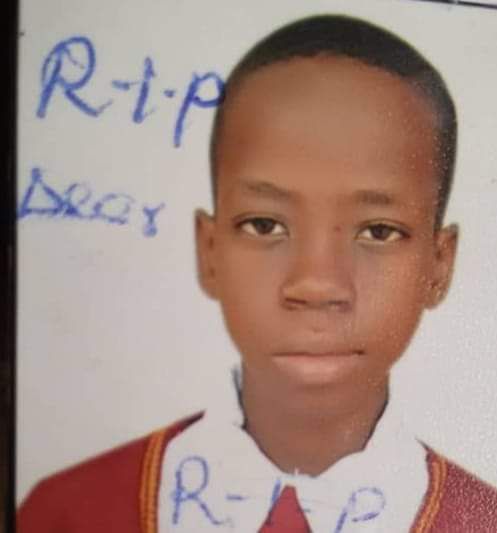 In his message communicated via Dengramites_World
<dengramites_world@googlegroups.com> on Wednesday, February 20, which was made available to Anaedooline.com on Thursday, February 21, the principal gave details of how the incident took place; adding that no student was yet to agree he was responsible for throwing the stone that killed the boy.
He wrote: "Fellow Dengramites, the incident took place on Tuesday, 12th February 2019.
"We had two events in school that day: Termly Clinical Evaluation and
Provincial Quiz.
"The students had eaten and it was time for sports in preparation for the
Interhouse Sports.
"Other students had gone out for sports and they were playing just in front
of the Obijackson Hostel with a Mock Ball.
READ ALSO: BUHARI TO GRACE NATIONAL SPORTS FESTIVAL CLOSING CEREMONY
"From the information we got from the boys, the boy, Emmanuel Chukwuebuka Nnanna, slumped and they took
him to the Sick Bay. And the staff nurse couldn't handle it and the boy
was rushed to the General Hospital, Onitsha. He died.
"We called the father's number severally, and it was switched off. We had to send a staff, who knew where his shop was. And she got another number from them there. He was contacted. And before he came, we took the child to Iyienu Hospital where he was confirmed dead.
"We have given our report to the appropriate authorities in charge of
education both in Anambra State government and the Diocese. And we are
in touch with family.
READ ALSO: INEC DEPRIVES CHILDREN OF EDUCATION IN NNEWI
"We are still seriously investigating the matter with the view to finding
out who threw the stone. Nobody has owned up till now. It's quite unfortunate that this happened.
"What happened may be purely an accident. He was not stabbed. He was not flogged to death. He didn't fall from a height.
"Why didn't we inform Dengramites on time? The bad news is not good news. We
were in talks with the family and we fixed an appointment for Friday, 22nd
February 2019".
While urging prayers for the peaceful repose of the soul of Chukwuebuka Emmanuel Nnanna, he also called on the people of good will to pray so that the family is also consoled.
READ ALSO:
Comments
comments