WHY I'ILL VOTE SMART OKAFOR ON MARCH 9 ASSEMBLY ELECTION
By Dozie Ikedife Jnr.
The Deputy Governorship Candidate of the All Progressive Congress, APC, in Anambra State in the November 18, 2017, governorship election, Mr. Dozie Ikedife Jnr, has given reasons why he would vote for Comrade Smart Okafor in the forthcoming election taking place on the 9th of March, 2019.
Primenews.com that interviewed the first son of Dr. Dozie Ikedife, Ikenga Nnewi, quoted Ikedife jnr. as saying that though his party has House of Assembly candidate, he will still drum support for Comrade Smart Okafor, candidate of the All Progressive Grand Alliance, APGA.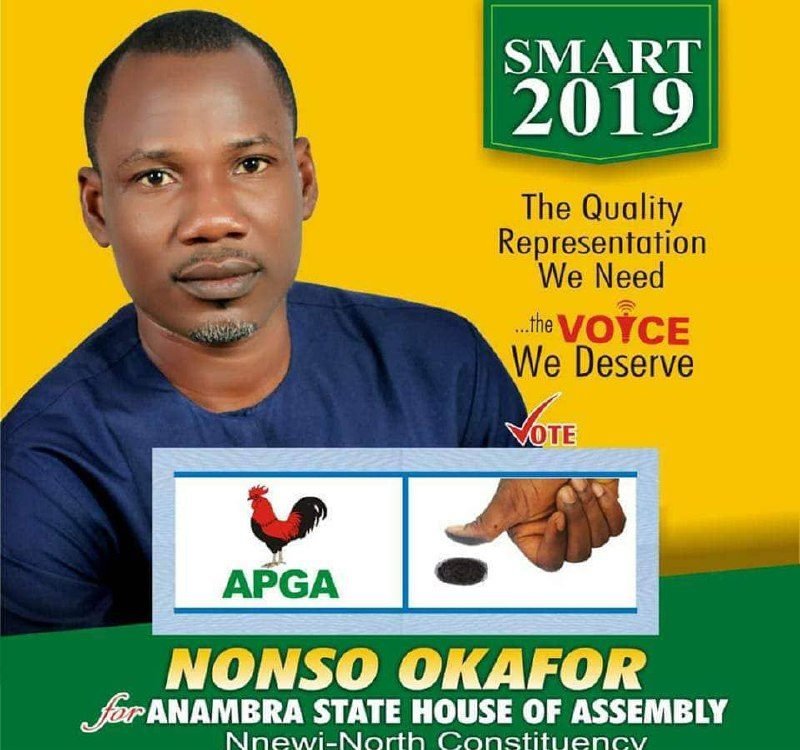 Hear him, "In our Constituency, Nnewi North, we have some fine gentlemen running for election into the State House of Assembly.
"My political party, APC, also has a candidate in the person of Prince Kenneth Emenike Anazodo, but if you ask me the person, who is most likely to win the election at this time, it is Smart Okafor.
READ ALSO: NIGERIA DECIDES: CARD READERS MALFUNCTION IN ANAMBRA STATE WARDS
"When you talk to young men on the street, you go to the market, there is something about him that resonates with the masses.
"His simple upbringing. People mock him and say he is the son of a nobody, that his mother fries akara.
"In my mind, I think that simplicity of upbringing represents most of the people of this town, because one of the biggest industries that we have in this town is the Spare Parts Market, Machine Parts and Motor Parts; and if you go there, you had thousands of businessmen and women in that market. Out of say, 10,000 people in those markets, 9.900 of them come from a very simple background and the majority of them must have been an apprentice at one time or the other.
"I see Smart as representing the image of our town. But, having said that, I am still a party man. I am an APC party man. So, despite the credentials of Smart, I am still a loyal party man. "
He finally advised youths in the town to avoid thuggery and violence because, according to him, the election that will be conducted in Nnewi is going to be a family affair, as all the contestants are coming from the same quarter and the margin of victory is going to be very slim.
"I want people to come out and vote massively for the candidate of their choice. We don't have room for violence in this election. Snatching of ballot boxes is a thing of the past, because, we have Card Readers. And whatever the Card Reader accredited must tally with the total number of votes in any polling unit. There is no room for manual accreditation. I call on the INEC Ad- Hoc Staff to make sure their Card Readers work and make sure they conduct the election based on the Card Reader.
"And anybody, who wants to tempt God can come and cause violence", he concluded.
Comments
comments
Post Disclaimer
The opinions, beliefs and viewpoints expressed by the author and forum participants on this website do not necessarily reflect the opinions, beliefs and viewpoints of Anaedo Online or official policies of the Anaedo Online.