Disaster struck on Aduke Street in the Ajegunle area of Lagos on Thursday morning, 28 November 2019, when a gas cylinder shop exploded, killing a number of people, including two children, and injuring several others.
It was learnt that property worth millions of naira were also destroyed, with the entire community still counting their losses from the tragic gas explosion which ravaged their neighbourhood.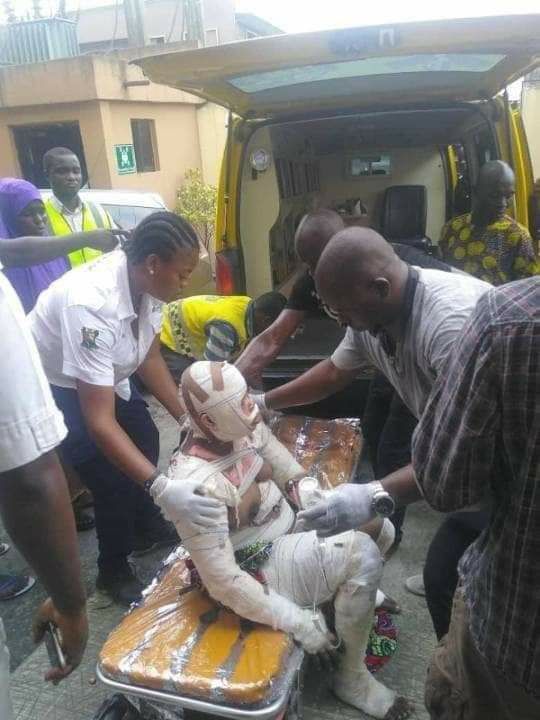 It was learnt that a gas cylinder shop in the community had exploded as a result of leakage, leading to an inferno that enveloped the community and got many residents trapped in it.
It was also learnt that a resident was making a phone call around the gas area which may trigger the explosion.
READ ALSO: Obiano Disburse Funds To Ochanja Market Fire Victims
The eye witness account revealed that virtually everyone within the vicinity was engulfed in the fire, including the children and their parents. While many could not escape and got burnt beyond recognition, others who were lucky enough to escape, however, did so suffering various degrees of burns and injuries.
Houses and shops close to the gas cylinder store were also badly affected in the fire that raged for hours.
Confirming the tragic incident, the Director-General of the Lagos State Emergency Management Agency (LASEMA), Dr. Femi Oke-Osanyintolu also confirmed that the fire ignited as a result of a call being made by an unidentified resident which escalated to other nearby shops and a bungalow behind the shops.
More details coming soon. See pictures of burnt victims being taken to an emergency centre.
Comments
comments