By Joy Chinemerem
The Palm tree is one tree that its economic importance can never be exaggerated, from the fruit, branches down to the roots, each part has a useful end product. The African Palm fruit, however, for the people of West Africa is the chief product both business and personal use wise.
Palm fruit plays a major role in the lives of all the ethnic groups in Nigeria, weighing heavily in almost every local food. To the Igbo people, however, the palm fruit comes into play in every aspect of their lives, which is why they are particular about different species. There are various species of this tree, one stands out remarkably for the Igbo people called "Akwu Ojukwu".
The Akwu Ojukwu Potency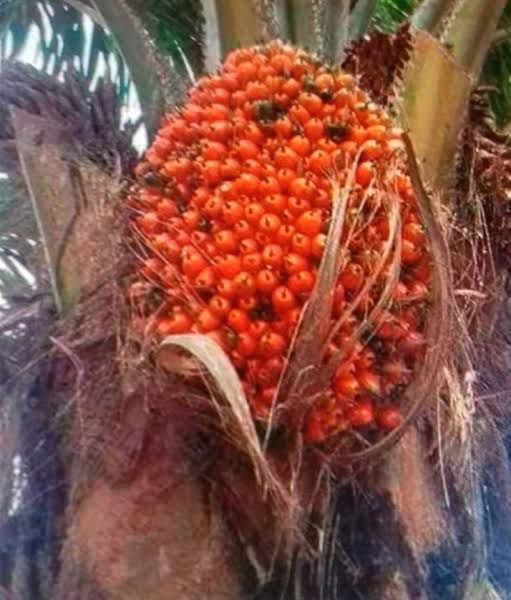 Akwu Ojukwu is a specie of palm fruit known for being smaller and red all over its body, that is gotten from a rare African oil palm tree. Akwu Ojukwu which stands for defense is valued by the Igbos for its spiritual powers, it is believed to have healing and protection power too.
According to a Herbalist, Akwu Ojukwu is not just a palm fruit but a deity on its own, a goddess that abhors evil. According to her, if you have any evil intentions or juju on you, the akwu ojukwu will nullify it.
The Akwu Ojukwu is surrounded by a sacredness that a plot of land where it is can never be sold likewise it is a taboo to buy a plot of land with Akwu Ojukwu tree, and it is said that it doesn't grow in a land that is in dispute/contention. The palm tree is said to be so special that you can't stand under her to point to another Akwu Ojukwu palm tree. It's very scarce to prove her uniqueness.
In Igbo land, a widow does not pick the nut with mourning cloth.
Read Also: Historical Places In Igboland You Never Knew
The akwu Ojukwu has so many life-saving abilities marking its uniqueness, some of them include:
1. Charm neutralizing: If you suspect or physically saw a charm on your premise, simply get some Akwu Ojukwu, squeeze out the juice with water, and spread them on the charm or around your surroundings. It destroys it completely.
2. Repels Evil Attack: Put one fruit of this wonderful palm fruit in your pocket or bag to resist evil attacks.
3. Keep Evil Forces Away: Throw some fruits around your compound and at the entrance to scare witches and wizards away.
4. The palm kernel oil is used to prevent and cure convulsion in children.
5. The palm kernel oil is used to cure chronic cough.
6. It neutralizes poison by drinking the palm oil.
7. When you step on charm or poison, apply the Akwu Ojukwu oil on the affected leg and experienced healings.
Comments
comments
Post Disclaimer
The opinions, beliefs and viewpoints expressed by the author and forum participants on this website do not necessarily reflect the opinions, beliefs and viewpoints of Anaedo Online or official policies of the Anaedo Online.