For many Nigerians, the 'ember months were one that ran high with the Christmas fever,.2020 was no exception despite the many travails of the year. In fact, 2020 was more so as it ushered in the Bone Straight rush. When Social media went agog , late last year, with an unusual thirst for this spectacular, yet not so spectacular weave, it brought it to mainstream media. Girls, boyfriends, and even the random social media user were caught in this web of trends, memes, and jokes.
Yes, the name bone straight hair is popular and even a day-old baby may have heard of it, but then not everyone knows what it truly means and what the rave about it is. This is what this post is about. 
What is bone straight hair?
This is a raw type of hair that is scanty, sleek, and thin. These thin strands of hair are firm and well knotted from weft to bottom. It stays flat and tangle-free with little or no effort even with the passage of time. Another feature that may or may not be favorable is that it cannot be curled. It lives up to its name – bone straight.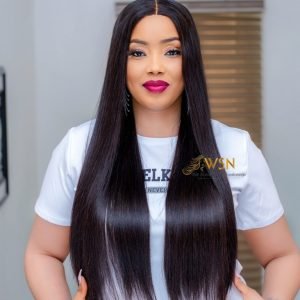 What are the features of Bone Straight Hair?
It's flat: This type of weave is very flat that is one of the reason it stands apart from other weaves. This hair is scanty and silky which makes it fall back easily.
Its styling is stress-free: This is stress-free hair as you spend less time in front of the mirror brushing and trying to pack. As it is well knotted, its strands are firm and tangle-free this however can be to a disadvantage if you are one that loves switching up styles
It is anti-curling: Any idea or thought of curling this hair in the future is dead on arrival,  and make no mistake about it, even if you love it straight, there would be moments you would look for another twist when you are tired of the straightness.
Here are ten types of men to run away from
This hair is straight as an arrow and will not be crooked, stands firm in her bone pride.
It's not receptive to colours: Bone straight hairs usually come in black color, it is not that receptive of other colors. But who is to say you can't try to tweak the color knowing fully well it may or may not come out favorable. 
What are the types of Bone Straight Hair
Bone straight hair comes in different inches suited for any of your purposes, and it has a handful of varieties. These include:
Single Drawn: This one contains multiple lengths of hair mixed into the extensions. It is mixed in a way that the hair appears very thick at the top, thins down at the middle while the ends are thinner. Thus, this makes it cheaper than the other types of bone straight hair.
Double Drawn: This hair is more expensive than the single drawn, it has the same length. it usually is thicker and fuller at the top middle, and bottom.
Super Double Drawn: this is a luxury bone straight hair and more beautiful than the other two. The density of the double-drawn bone straight hair gives you the feeling and look of natural hair. it is the thickest hair. It contains approximately 85-90% amount of hair strands that are of the same length. This is the most expensive of the bone straight family.
The double-drawn type is the ultimate amongst them, it gives a look of one's natural hair that without been told one would think that it is. It is sure worth its exorbitant price.
Why The Rave over Bone Straight Hair?
The bone straight hair is not a new brand of weave nor style, leaving one to then wonder why the sudden madness for it, for something that has been around for some time. As they say, everything has its seasons and time, maybe this is the time of bone straight wig.
Another angle some say it was sparked off by a tweet on the price of the hair which then resulted in branched-off conversations about it, ultimately putting it on the trend table. It was a topic that was on the trend table for many days, going off and on. The guys were thrown into a fix trying to figure, what on Bobrisky's internet, is "Bone straight hair", and to top it off, ladies started billing their boyfriends for the hair. Bone straight hair became a symbol of prestige.
As it is quite pricy it falls into the category of important by price. Besides the price being something you may not afford to buy every day, the hair seems worthy of the rave. Have you looked at that hair – really looked at the hair? I mean really felt the texture and beheld the beauty from the sleekness to its fine strands, you sef go believe.
Are you wondering about the price of this luxurious hair? Here we go
CCTV Captures Moment Lady Stole Human Hair Worth N200k (Video)
How Much Is Bone Straight Hair?
The price of this hair is not fixed, it is dependent on other things like the inches, grams, type, and the source: There are Vietnamese hair, Cambodian hair, Chinese hair, and others. 
For all the types and varieties, the prices range from N60,000 to N300,000 and even above. 
Its exorbitant price somehow placed a must-have feature on it like the overpriced Apple products. Big girls, slay queens, and any other girl who is concerned about staying abreast of fashion trends  and "belonging" have at least one or more of this luxurious hair in their kitty. 
Follow us on Facebook
Comments
comments
Post Disclaimer
The opinions, beliefs and viewpoints expressed by the author and forum participants on this website do not necessarily reflect the opinions, beliefs and viewpoints of Anaedo Online or official policies of the Anaedo Online.