With blue hair that stands out and a unique velvety style of song, for keen observers of the music industry, Wurld is like a breath of fresh air since he hit the Nigerian music scene. Wurld is an American-Nigerian singer and songwriter. He's one of the fastest-rising artists who has carved a niche in the music industry with his genre of music – electro-fusion. His unique feature goes beyond his signature blue-colored hair but more into the power of his music.
If you have always who he is and the things that come together to make him the gem that he has become, you are one of us: we have wondered about a lot of things about Wurld, and here's everything we found out.
In the beginning…
Sadiq Onifade was born into a family of ten on 2 January 1987 in Lagos, Nigeria. His father had two wives and he is the first son of his mother. As a teenager, Wurld relocated to the United States where he obtained a degree in Computer science from Georgia State University, Atlanta.
While studying, he fell in love with music and songwriting. When he was a child, WurlD listened to Fuji music, Juju, and Afrobeats which helped shape his electro-fusion sound when he developed the genre in the States. The "Mad" crooner has attributed his stay in Atlanta as an influencing factor in his choice of music.
Career
WurlD made his debut entrance into the world of music in 2012, with his first single "Beyond Our Dreams" off his debut EP titled Evolution. The album was due for summer, 2013, Society of European Stage Authors and Composers (SESAC) held an exclusive listening party for the forthcoming release of "Evolution". 
By the year 2013, WurlD was already collaborating with American artists — Mario, Trinidad James, B.O.B, and Scotty ATL. He wrote the hooks for Trinidad James "Still Aware" featuring Scotty ATL, B. O. B songs " I Know" and "Fake Friends". WurlD also worked with Timbaland's artist, BK Brasco as a featured artist on "Beautiful Girls." even appearing on the video.
In 2015, WurlD came into the limelight with the release of "Show You Off" which is a collaboration with Nigerian producer Shizzi, and Major Lazer's Walshy Fire. 
He has since then grown into the hearts of the public, evolving in his afropolitan niche making it more popular in the music industry. His single "Follow you " featuring Polish disc jockey, DJ Gromee was critically acclaimed, a major hit in the Eastern part of Europe like Denmark, Poland.
The success of his first studio album, he released a second EP titled "Love is contagious" on 28 March, 2019. The album centers on love, from the infatuation stage to the commitment stage. His single "Contagious" is a fusion of Nigerian juju music with pop and R&B. 
More on his career
WurlD co-wrote the hit song "Blow my Mind" by Davido featuring Chris Brown in 2019. The song was produced by Davido's long-time collaborating producer Shizzi. He also featured on Davido's album A Good Time.
2019 was a good year for the singer. He teamed up with award-winning producer Sarz On The Beats on his 8-song EP,  I Love Girls With Trobul. The project was ranked No 1 on Nigeria's iTunes charts with highly-addictive jams like "Trobul" and "Ego".
His track Wishes & Butterflies won him an award for 'Best Vocal Performance' (Male) at the 2019 Headies Awards.
Angela Okorie: How Old, Is She Married, Everything You Need To Know
In an interview with the Guardian Magazine about his stage name, the artiste said: "The first few songs I created as an artiste were constantly referred to as world music by close friends, which I shared with them.
The name was initially spelled as World, which stuck with me as I was constantly referred to as a world music artiste. I later changed it to WurlD, which is the same pronunciation, but an easier search on the web."
Disclosing further, he revealed the inspiration behind his signature blue hair. He mentioned that blue is his favorite color, he explained that it blended easily when he first tried it on his hair and he has the color ever since.
Relationship With SARZ
In 2018/2019, the Nigerian music scene witnessed a shift in music culture with the emergence of the Wurld and SARZ duo.
With their smooth collaborative project, Wurld a relatively unknown RnB singer in the Nigerian scene was pushed on the radar of the top music scene.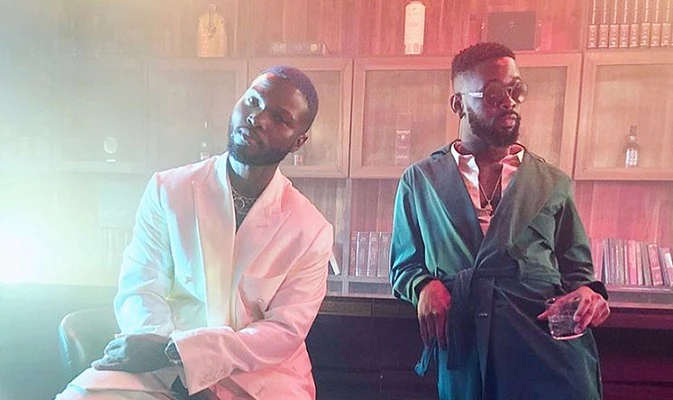 The duo created magic with a slow infiltration of sultry, soulful, lo-fi music in afrobeats. Backed by Sarz's fresh instrumentals, WurlD flexes his songwriting chops to talk about all things love and lust in this eight-track EP. 
On the origin story of how this project came to be, the duo notes that a mutual friend of theirs made the initial connection for them to explore working together. Sarz, born Osaretin Osabuohien, then sent over a few beats, with WurlD delivering with 2018's "Trobul" in less than 24 hours.
Sarz says he was so in love with the song that this collaboration needed to go beyond one track. They both describe the foundation of the EP as "seamless," and for WurlD, this was one of the few times he made a decision to work on a project with someone without overthinking it. It just felt right.
WurlD and Sarz created a masterpiece on the I Love Girls With Trobul, a balance while pushing the culture forward.  
Networth
His net worth is estimated to be between $1 million – $5 million dollars.
Follow us on Twitter
Comments
comments