Another crisis is looming over the country owing to a fresh threat by the National Association of Resident Doctors to commence a nationwide indefinite strike. That this will be the third strike by NARD in just nine months demonstrates how unserious Nigeria takes health matters.
NARD, which comprises 40 percent of all doctors in Nigeria, had embarked on industrial actions in June and September 2020, but called them off after negotiations with the Federal Government. But following the government's failure to meet some terms of the agreements, the doctors are now gearing up to resume the strike.
The doctors hinge this decision on the failure of the government to pay salary arrears and indemnify their colleagues who died of COVID-19. NARD stated that about 3,824 doctors were exposed to COVID-19, 1,600 were infected and 17 died. The insurance claims of the deceased have yet to be paid, while their families have allegedly been abandoned. This is no way to treat people who paid the supreme sacrifice in order to save lives. It is even more disheartening that many health workers, who are the first responders to patients, did not have access to Personal Protective Equipment were thereby unnecessarily exposed to COVID-19.
Without mincing words, Nigeria is a country that does not value sacrifice. The treatment meted out to doctors is similar to that being faced by security officials on the frontline, who are not given the needed equipment to succeed while their families are abandoned after their death. The hazard allowance given to doctors last year was a paltry N5,000 each, while allowances of doctors working in the isolation centres in most states have not been paid. Some states like Imo have witnessed periodic doctors' strikes for months due to unpaid allowances and lack of PPEs.
In contrast, many countries gave morale-boosting incentives to health workers during the pandemic. According to the Washington Post, while Canada announced salary hikes, France pledged bonuses for doctors and nurses as part of its $120 billion rescue package. An Iraqi governor said public health employees would be rewarded with free land, while the United Kingdom paid families of medical workers, who died of COVID-19, a lump sum $65,000. Even neighbouring Ghana, which has a GDP less than 15 per cent of Nigeria's, announced a 50 per cent raise for health workers and income tax waivers as they toiled against the novel coronavirus.
The COVID-19 pandemic presented developing nations like Nigeria with a golden opportunity to invest in their decaying health sector. The Director-General of the World Health Organisation, Tedros Ghebreyesus, rightly stated last year that for too long, health financing was seen as a cost; but the COVID-19 pandemic has shown that health funding should be considered as an investment in communities, economies and global security. He called for investment in the health workforce.
This will ensure that they are prepared for the challenges humanity collectively faces today and in the future, and build their competencies to deal with the likelihood of further disease outbreaks. But it seemed Nigeria failed to get the memo as the lot of health workers failed to improve.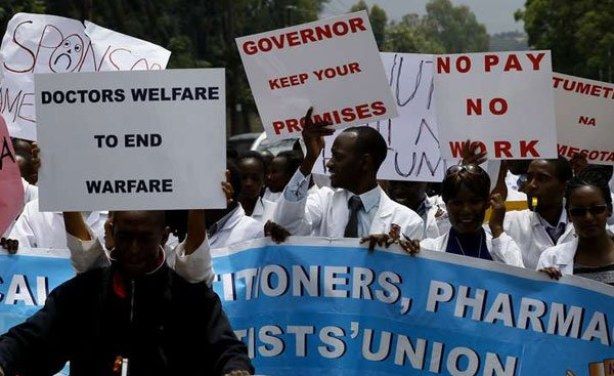 The crisis plaguing the health sector can bring the country to its knees if not addressed. The entire system is putrefying: hospitals are in the worst form of degradation. There is a deficit of equipment, while health facilities are mostly dilapidated due to years of poor budgetary provisions and mismanagement of funds.
The neglect of this critical sector has forced many doctors to seek greener pastures abroad with a poll showing that 88 per cent of Nigerian doctors are considering work opportunities abroad. The Federal Ministry of Health had revealed that the health sector recorded an increase in the number of doctors seeking migration from 656 in 2014 to 1,551 in 2018.
According to the General Medical Council, the government body that maintains the UK's official register of medical practitioners, there are currently 8,165 Nigerian-trained doctors in the UK. This figure has continued to increase despite a new policy by the UK to curb the recruitment of doctors from Nigeria and other developing countries. The Medical and Dental Council of Nigeria puts the total number of registered doctors in Nigeria at a paltry 74,543 for the country's population of about 206 million. This puts the doctor-patient ratio in the country at 1:3,500, far below the WHO recommendation of 1:600.
Read Also: Again, Resident Doctors Threaten To Go On Strike April 1
The Federal Government has apparently not done well in handling the grievances of health workers, hence the incessant strikes. It should re-examine what it has done and adjust accordingly. Without a doubt, Nigeria's weak health care system, which has consistently been ranked poorly by the WHO, can no longer withstand these strikes. The government must call the doctors to the negotiation table and meet their demands once and for all instead of just appealing to their sense of patriotism and altruism.
Literally, the presence or absence of a doctor in a hospital could be the difference between life and death for a patient in need of medical attention. Sadly, last September, doctors working in COVID-19 isolation centres joined the NARD strike.
Read Also: JUST IN: Resident Doctors To Begin Nationwide Strike Monday
Health unions must therefore resist the temptation of embarking on strikes too frequently, as this could prove destructive and counter-productive since patients are not the primary target. That this will be the third strike in nine months shows that there is a need for health workers to change their strategy. The strike should be avoided.
Source: Punch
Follow us on Twitter
Comments
comments