A beautiful urban chaos, the Eastern heartland of Owerri is that city you visit when you want premium enjoyment. The capital of enjoyment in the southeast region, this city will frustrate and make you deliriously happy at the same time. One of the cities in Nigeria with the highest number of a loose assemblage of clubs, bars, hotels, and relaxation spots to have fun, Owerri. 
The capital of Imo state, Owerri boasts of modern edifices and natural resources like crude oil. Just like a modern metropolis, Owerri has that saturated feel with more than 4 different tertiary institutions students jostling and bustling around in the city, one can feel the youthful vibe constantly in the air. 
Away from the partying and clubbing, their local delicacies will leave you coming back for more. With classy and local restaurants scattered across town, you have no choice but to have a taste of their food, be sure to try their famous Ofe Owerri.
Want to meet more people? Still the right city. The beautiful people of Owerri are known for their hospitality and welcoming spirit. They are known as people of enjoyment 
Bet Timaya had this city in mind when he sang " This life I can't kill myself". Do you want to have that time of your life in this city? relax while we give the expo to the right hang-out spots.
Ibari Ogwa Village
You've probably heard of Ibari Ogwa in some of  Flavour's songs. It is one of the top entertainment hangout spots in Owerri, their point and kill game is legendary ranging from fish, fowls to even goat. It is said that not a day of being there without bumping into one celebrity or more. 
They offer a variety of local food with nice highlife music to help you relax. Ibari Ogwa village is located at 1 chief Emma Ugorji street, off Port Harcourt road, Owerri Imo state
Mimi's Place
This is a classy eat-out spot with local thatched roofs that is popular for quick lunches, evening hangouts, hosting events, and celebrities go-to spot. Famous for their mouth-watering dishes, Mimi Place uses the finest seasonal ingredients to create classical Nigerian meals that take the diner on a remarkable culinary experience and as well as fill the stomach.
Located at Plot 5046, Beside All Seasons Hotel, Southern Centre Tangent Arterial Highway, New Owerri, Imo state. Bushmeat pepper soup and flour with Nsala soup is their specialty
Blue Ribbon Lounge
At the time of its inception, the Blue-ribbon lounge was the best offering a bespoke ambiance that was unrivaled in Owerri and its environs. 
5 Top Tourist Centers In Imo State
Blue-ribbon Lounge located at 3 Egbu Road, Owerri, Imo state is an entertainment Lounge that offers a wide range of drinks, food, music, and comedy in a classy, stylish, cozy ambiance.
Tropical Village Bar
A very pocket-friendly spot for you and your friends, Tropica village bar is located at no 10 Nwaturuocha Street Ikenegbu Layout Owerri, Imo state. Tropica village bar is a place for fun, relaxation, entertainment, and enjoyment. Tropica village bar is a great place to hang out with friends.
Bongo Center
located Inside IICC Premises, Orlu Rd/ Warehouse Roundabout in Owerri, Imo state. Bongo Centre is one of  Owerri's finest Hubs for local delicacies and traditional entertainment while also keeping in touch with modern global trends.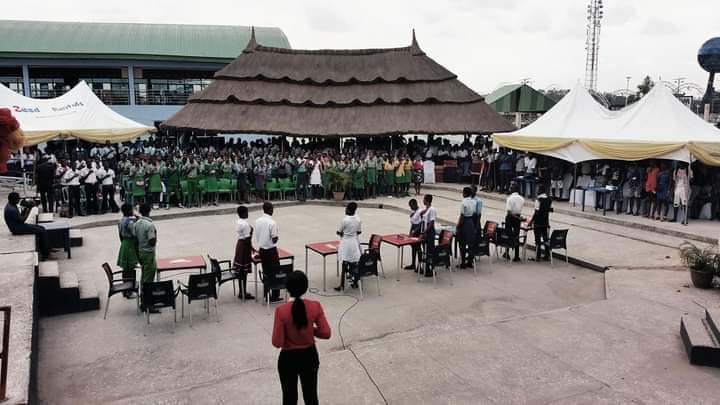 Deboniars 
You can't have fun on empty stomach, right? This should be your favorite pizza spot, their mouthwatering pizza is famed. 
Debonairs is a chain of pizza outlets found across the country. This is one of the best places to get pizza in Nigeria. They serve American-style pizza and also the Nigerian variations. Grab a bite here on your next visit to Owerri.
Genesis Cinemas 
If you are a movie lover, Genesis cinemas just a perfect place for you. Genesis is a chain of cinemas found in almost every city in Nigeria. It offers you all the trending blockbusters 'as e dey hot'.
Jacaranda Casino 
Are you one for the fast life thrill and dare? Want to try your luck at the table? Owerri has it all 
Jacaranda casino offers an enthralling gaming experience that is second to none. It is located in this four-star hotel, your gaming experience will be teeming with entertainment, excitement, and stylish comfort. It offers the latest in video, traditional and retro slots, with tables including games such as Roulette, Blackjack, Easy Poker, Stud Poker, Baccarat, and Texas Hold 'Em Poker, Bingo, and lots more!
Sunbeam Coffee Shop
For our bougie friends that might want coffee before setting out for the day, Sunbeam Coffee Shop is a one-stop cake, ice cream, confectionery, and coffee shop here in the Eastern Heartland.
A day hasn't started if a cup of coffee hasn't been downed. There's an art to coffee making and Sunbeam Coffee Shop can boast of having achieved the mastery. Their range of products is so artfully and thoughtfully prepared to meet the highest standards of quality and good taste in a hygienic environment.
Are you a book lover, then you might consider taking a book along with to give you that french roadside coffee shop feeling.
NV Lounge
Exclusivity, Class, Distinction, and Finesse. These are qualities NV Lounge has that make it one of the freshest and most sought spots in Owerri.
Most popular celebrities hang out in this lounge, NV Lounge has hosted a lot of A-class people from all parts of Nigeria. Everything you can expect of a bubbling nightclub, from the hookups to the perfect lightings and the extensive bar.
Even though, Owerri lifestyle borders on extravagance, it is a cool city for everyone.
Follow us on Twitter
Comments
comments
Post Disclaimer
The opinions, beliefs and viewpoints expressed by the author and forum participants on this website do not necessarily reflect the opinions, beliefs and viewpoints of Anaedo Online or official policies of the Anaedo Online.