Nnewi, the commercial hub of the South East has produced a lot of Eminent Personalities and Celebrities, both living and dead. Nnewi the land of Gold is still churning out Celebrities and Legends. Today, we introduce Queen Mirabel Mmesoma Anosike to you. Queen who has planted her feet firmly on the African soil as the 1st Runner Up of Miss Olamma Africa 2020/2021.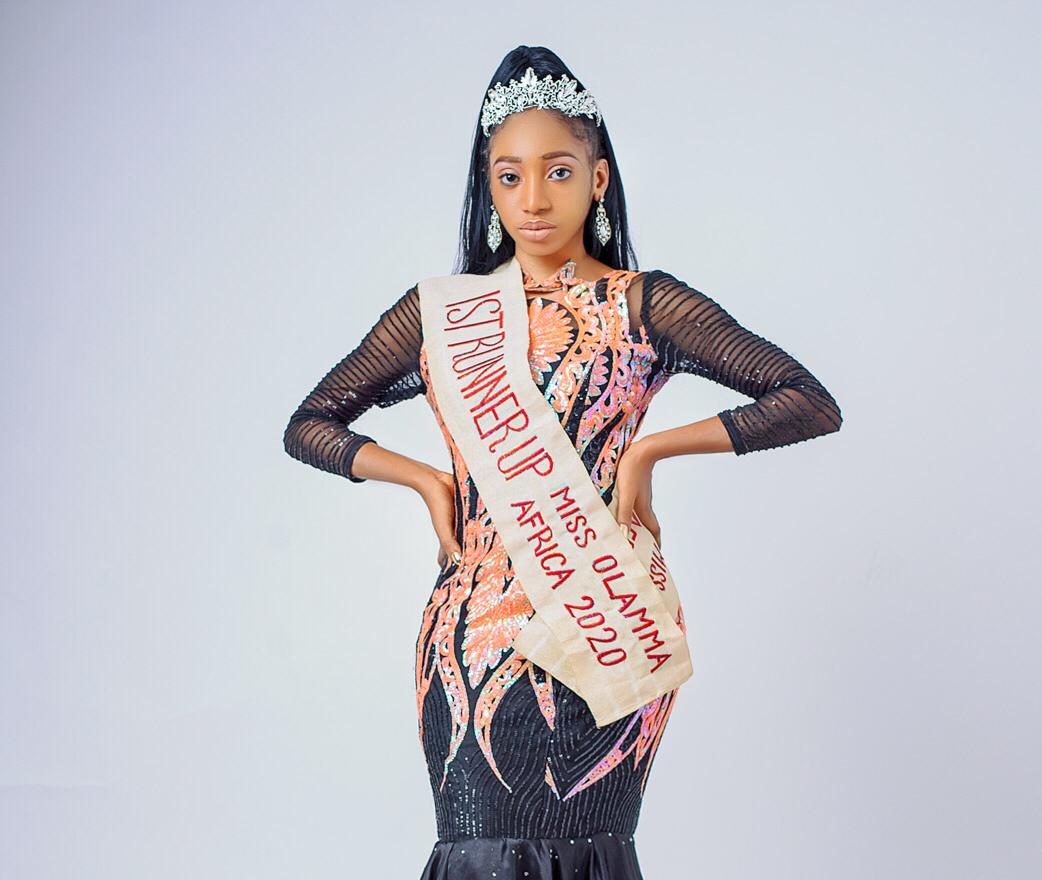 Her name as earlier announced is Queen Mirabel Mmesoma Anosike hails from Abubor Nnewichi Nnewi North LGA of Anambra State, Nigeria, but was born in Lagos State, Nigeria. She is currently a final year student of Mass Communication at Tansian University Umunya, Anambra State. Queen Mmesoma is a multi-award winner and a multi-talented Media Enthusiast.
She is equally a passionate advocate for human excellence, which has made her embark on the Educational/Health Tours Project, educating students on the need and importance of living a healthy life. As stated earlier and for the purpose of emphasis, Queen Mirabel Mmesoma Anosike is the 1st Runner Up of Miss Olamma Africa 2020/2021.
Before then, she emerged as the Most Beautiful Girl In Nnewi (Miss Nnewi) 2019. Earlier on, she was crowned Miss South East International 2018, having conquered both home and abroad, she is now set to conquer the world.
Mirabel is not just all beauty, she is also full of her brain. She is an author of no mean stature, her first book titled "Petting The Pebbles" is a Classic and a Bestseller that is dedicated to an unlimited generation whose dreams and vision have been cut short by vices of uncertainty and vagaries of life.
Bianca Ojukwu was Nigeria's beauty queen
Her love for humanity's excellence made her set up her first-ever Foundation called MMA Foundation geared towards food adequacy, security, and provision. After providing free food for the poor masses over time, she has taken a notch higher by teaching the people how to fish. As the saying goes give a man a fish and you feed him for a day, but teach him how to fish and you feed him for a lifetime.
To this extent, she is practically advocating the movement to the farm through her Operation Go Back To The Farm Initiatives. In her words. "Today we are people that do not grow food in our soil, either by ourselves or by agencies that can produce food and products. We are no longer able to sustain our lives and to meet our daily socio-economic needs from the agricultural activities by which we were well-known in the past."
Queen Mmesoma is passionate about promoting Agricultural Development in Igboland and is seizing this opportunity to seek partnership from established Agro-Allied Firms and individuals in Igboland and beyond so that the teaming masses do not go into famine but ensure Food Security.
Queen Mmesoma, is a charismatic, lively, enthusiastic, and vibrant young lady whose philosophy of life is to perspire and aspire to her heart's desire; God, goals, and growth, in which having Chukwu (God) at the forefront of all her endeavors have been able to bring her this far and will definitely take her farther. As she succinctly puts it: "I will continue to be a shining example of the Light and Beauty of humanity.

You can reach out to her for enquiries/partnership.
mmafoundationhome@gmail.com or visit her website.
Comments
comments
Post Disclaimer
The opinions, beliefs and viewpoints expressed by the author and forum participants on this website do not necessarily reflect the opinions, beliefs and viewpoints of Anaedo Online or official policies of the Anaedo Online.