CrossRiverWatch Editor-In-Chief and rights activist, Citizen Agba Jalingo has been arrested by the Cross River State command of the Nigerian Police Force over a fake petition that he is an arms dealer.
He is currently been questioned at the State Criminal Investigation Department (CIID) of the Cross River Police Command.
The Commissioner of Police, Mr. Kayode Sikiru had invited Citizen Agba Jalingo to his office for an interview over the planned #June12 protests.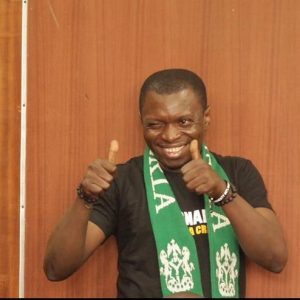 After the meeting, he asked the duo of Citizen Agba Jalingo and CrossRiverWatch News Editor, Jonathan Ugbal to ensure the planned action was peaceful as the Command will not fold it's arms and watch it degenerate into a riot.
The duo were then taken by the Officer in Charge of Intelligence, Cajethan Onwusor to the State Intelligence Bureau office where they were profiled, their photographs taken and biometrics captured.
They were then asked to wait and after over an hour, an unnamed official from the State CIID came calling the duo to his office which is the first by the right on the top floor of the SCIID building.
Upon arrival, he called the Officer in Charge of Human Rights Unit, Simeon Nwaguru and just told him "see the two of them here."
Simeon Nwaguru read a two page document handed him by the unnamed officer and called Citizen Agba Jalingo and handed it over to him.
Read Also: Agba Jalingo Trial Takes A Different Turn.
After glancing through, Citizen Agba Jalingo turned, looked at Jonathan Ugbal and said: "you were right, these people have cooked a petition that I am an arms dealer and the group has no physical address while the person who sent it did not sign and has no phone number." The petition was by Concerned Cross Riverians.
Efforts to reach the CP to inquire whether the invitation was for the purpose of the petition have failed so far with police officers saying he had gone for prayers.
Citizen Agba Jalingo is stills facing trial for alleged acts of terrorism, treasonable felony and attempts to topple the Cross River State Government over an article he wrote in June 2019 asking for the whereabouts of the NGN500 million approved and released for the floating of the Cross River State Microfinance Bank.
Read Also: Agba Jalingo: Prison Officials Afraid Sowore Will Incite Inmates
When contacted, CrossRiverWatch lawyer, Barrister James Ibor said: "It's sad that we're drifting into dictatorship where Governor Ben Ayade like his master, President Muhammadu Buhari who is determined to shrink the civic space and criminalize citizens attempt to demand for accountability and good governance, but they will fail."
Source: CrossRiverWatch
Follow us on Facebook
Comments
comments