Man narrates an encounter with his friend who once squatted in his apartment for a period of time while seeking admission to another University.
According to a Twitter user identified as @akwaricharles, his friend could pull through with his admission to the same school as he was so he decided to allow his stay in his apartment while working his admission to another school.
His friend, Chima, made life a living hell for him after meeting a lady with whom they spend a lot of time together in the house.
I Squatted In Mo Hits' House While Struggling to Be Famous – Davido Opens Up
"I evicted a friend who was squatting with me while in Uniport.
Chima wasn't a student. Since his admission was not genuine, he had to leave ABSU and was looking for ways to get into Uniport.
Things were good till Chima met Nneka.
Every time I get home from class, Nneka is laying on my bed with Chima. Most of the time I give them space and go to a neighbors room to chill.
I called Chima and had a conversation with him about how inconvenience it is to always have Nneka around all the time.
He promised he would change. Well, there were changes but it didn't last for a week.
Things changed when I went to Choba campus to read from 3:00pm to 10:00pm. I was tired and exhausted. When I got home, Chima and Nneka were already laying and gisting on my bed.
I didn't say anything. To make the matters worse they finished all the food left in the house. I didn't bother, I soaked garri and salt and went to lay on the floor with wrapper.
I couldn't sleep early cos I was still trying to internalize all that I read.
As at 12:25am, Chima and Nneka started their usual romping. This was my first time sleeping in my room when Nneka was around. I usually just sleep in a neighbors apt.
They started making some funny sound, quite like "v-ginal farting". I guess Chima had his fingers inside her.
I was already mad angry, so I closed my eyes and tried to force myself to sleep, but the noise and the movement of the sheet kept disturbing.
Chai, Chima started combing Nneka and I lost all sleep.
I laid there like a rescued cat. They probably thought I was asleep already.
Suddenly I felt a warm fluid-like stuff on my head, just very close to my earlobe dripping down my neck. Out of immediate curiosity, I touched it and it felt sticky.
I quickly stood up and went to the bathroom, turned on the light and it was sperm.
Chima pulled out on my head? Or was it from Nneka? F*ck no.
This is the height of nonsense. House that I pay 100% for? I took a shower and went back to lay down.
The next morning, I told Chima to leave my house," he narrated.
JUST IN: Another Popular Nollywood Actress Is Dead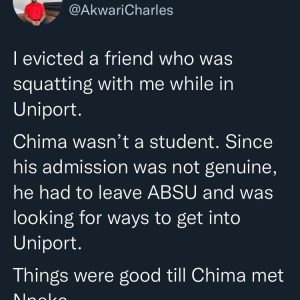 Comments
comments
Post Disclaimer
The opinions, beliefs and viewpoints expressed by the author and forum participants on this website do not necessarily reflect the opinions, beliefs and viewpoints of Anaedo Online or official policies of the Anaedo Online.