Twitter user, Akunesiobike has shared his experience with an 'entitled' lady who requested for nothing less than an iPhone 7 plus from him.
Akune said the incident happened years ago when he was still out of the country. He was planning a visit to Nigeria at the time, and this lady who he was chatting with, requested for an iPhone.
She went further to warn him that the iPhone he's getting for her shouldn't be less than an iPhone 7 plus.
How Much Is iPhone 12 Compared To The Prices Of Food Items, Building Materials, All
He tweeted!
"So, some years back, there was this girl I was talking to, (we met on Facebook, but hadn't met in person), she begged me to "get" an iPhone for her as I was abt visiting NGR, I said "OK, we will see," this girl went further to audaciously tell me, anything below iPhone 7 Plus
I shouldn't bother purchasing it, cos she'd not accept it, "OK," I replied. When we met in Enugwu (Enugu), she asked me abt the phone, & I reminded her abt what she said, she got very upset, & disappointed, that was the first and last time we met, or spoke, 2 & a half years.
later, she came back, apologizing, talking about how she discussed what transpired between she & I with her friends, & they all faulted her, I told her I've accepted her apologies, but I just never spoke to her again since then. Who spoiled Naija girls like this? The men?"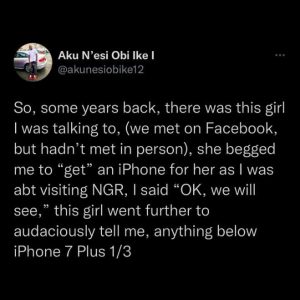 Meet The First Male Celebrity To Get The New Iphone 12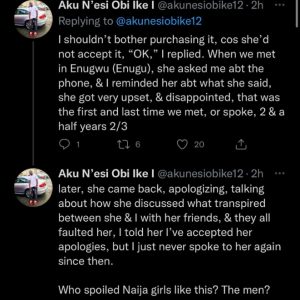 Comments
comments
Post Disclaimer
The opinions, beliefs and viewpoints expressed by the author and forum participants on this website do not necessarily reflect the opinions, beliefs and viewpoints of Anaedo Online or official policies of the Anaedo Online.