Osun State governorship aspirant, Dele Adeleke has replied his cousin, Davido, shortly after the latter who is an award-winning artiste resumed another round of verbal attacks on him owing to his decision to contest in the 2022 Osun gubernatorial election.
Davido, who had promised to ensure that he frustrates Mr. Dele for allegedly hiring the services of people to slander him, also accused the governorship aspirant of disrespecting his parents.
In a series of tweets, Davido wrote: "Because of your ambition you have your people write about me (which I don't care) but to include the death of my mother in an article… same woman that raised you… @deleadeleke001ok na..Dele God will reward you.
"Dele God Will Reward You" – Davido Says As He Drags Cousin, Dele Adeleke Again
"Dele, Mr Fake Intellectual, you really dared to cross that line !!! You dared include my Mom's Death in your lies about me. My mom that fed you and and literally clothed your sorry ass ! It is a shame !!! I promise to expose your ungrateful betraying ass to the whole Osun !!
"The truth hurt you that much you had to go that low to mention YOUR AUNTY VERO that cared for you… well.. I don open my crase for the year @deleadeleke001 stay tuned NEW MUSIC 2MORO.
"Worst of all this Nigga really doing all this from the house my father gave you! Audacity! Disrespect me! (I don't care) But my FATHER my MOTHER Never! DELE I WILL STRESS YOU! We go meet for field."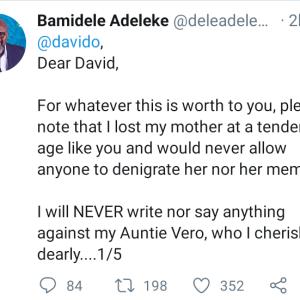 2023: What Dele Momodu Said On Joining Presidential Race
Meanwhile, in a subtle reply by Mr. Dele which ended with "you will always remain dear to me", the Osun State governorship aspirant wrote:
"Dear David, for whatever this is worth to you, please note that I lost my mother at a tender age like you and would never allow anyone to denigrate her nor her memory.
"I will NEVER write nor say anything against my Auntie Vero, who I cherish dearly.
"You are the king of social media & you definitely know people take it upon themselves to write whatever they believe will give them clout.
"So many of your fans came to my SM handles to threaten me and some even asked me to go and die. Did you send them to threaten my life?.
"I seriously doubt it and I do not believe you will do such thing.
"So, irrespective of politics, please note that I am not that kind of person; I have maintained decorum in the face of provocation and I will continue to do so.
"I respect your decision and choice to support Uncle Demola and that is the beauty of democracy.
"It is possible we can all make our individual choices without rancour and bitterness. We can all follow different paths and still live as one big, happy family.
"The people of Osun, greatly deserving the best, will give the job to who they so deem fit and may the #Best man win #OSUN2022.
"You will always remain dear to me.
"Dele. N.B I earlier sent U this privately via Whatsapp but it remains undelivered hence my resort to Twitter."
Comments
comments
Post Disclaimer
The opinions, beliefs and viewpoints expressed by the author and forum participants on this website do not necessarily reflect the opinions, beliefs and viewpoints of Anaedo Online or official policies of the Anaedo Online.