Malcom Omoirhobo, a human rights attorney from Lagos, raised questions on Thursday when he showed up at the Supreme Court in Abuja dressed traditionally, giving the impression that he was a herbalist.
Security guards at the court reportedly tried to stop the attorney, but they gave up when he explained why he was entering the building in that way. This is according to Anaedoonline.ng.
Malcom explained his choice of attire for the proceedings, citing a recent Supreme Court decision that enabled all Nigerians to practice their religion openly and legalized the wearing of the hijab in public settings like schools.
Leave Christian Schools For Christians – Oyedepo Have Say On Hijab Crisis
According to Anaedoonline.ng, the Supreme Court last week authorized female Muslim pupils in Lagos State to wear the hijab to school.
Seven members of the court's panel deliberated before coming to a judgment.
According to reports, five of the attorneys agreed to the wearing of a hijab in schools, but two others disagreed.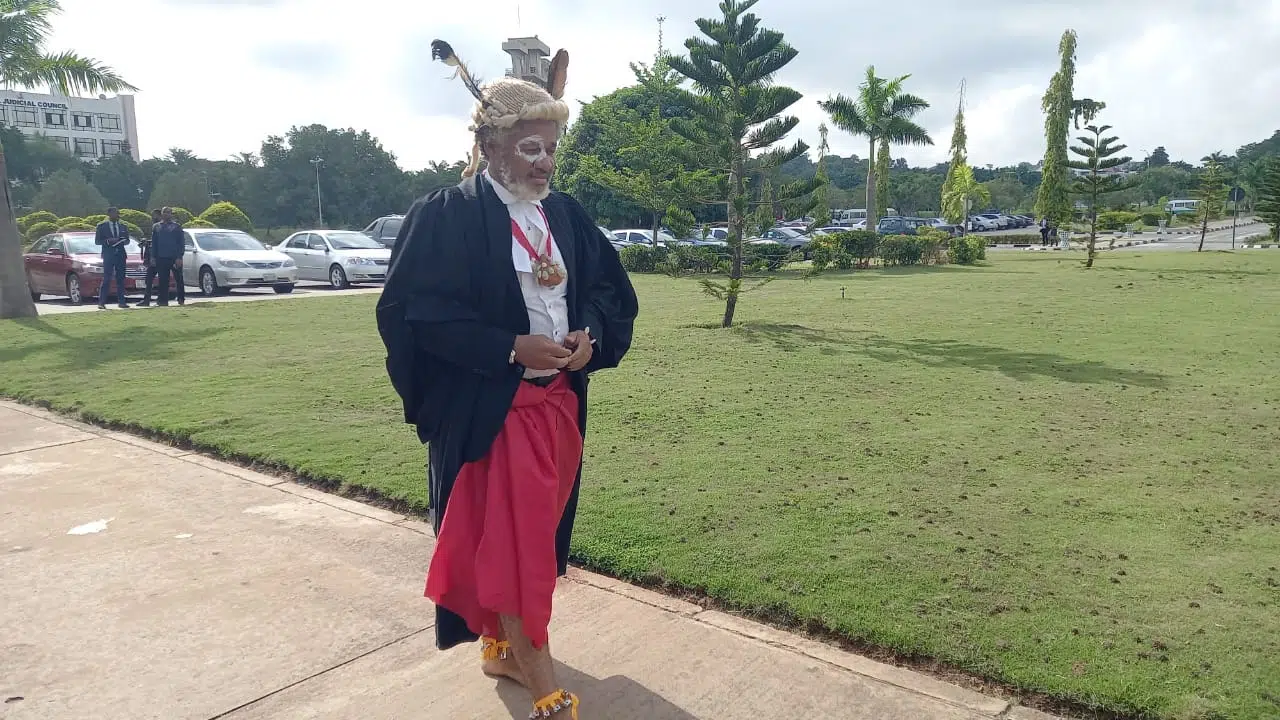 In the end, the Supreme Court decided in favor of the hijab.
Malcom, who appeared at the court this morning about 9:05 am, brought attention to himself when his seated colleagues were startled to find him dressed in traditional garb to resemble a herbalist.
According to Anaedoonline.ng, the attorney arrived at the courtroom wearing just his wig and bare feet.
Malcom was also seen sporting a scarlet wrapping around his waist and a gourd necklace with cowries.
Kwara Hijab Crisis: CAN Slams Gov. AbdulRazaq's Over Support For Muslims
His entry into the courtroom produced a ruckus, which quickly ended the proceedings.
It was not immediately obvious whether the lawyer's presence was what caused the presiding justice to call a brief pause.
According to reports, a sizable crowd gathered in the courthouse to see the dramatic incident while others used their mobile devices to capture images of him.
"I am very grateful to the Supreme Court just last week Friday they made a very resounding decision that promotes Section 38 of the constitution. That is our right to freedom of thought, conscience, and religion. That we are free to express our way of worship in our schools and in our courts. That decision was reached on Friday and that has encouraged me.
Hijab Approved In Public Schools By Kwara Govt
"Because I am a traditionalist and this is the way I worship. Based on the decision of the Supreme Court this is how I will be dressing henceforth in court because I am a strong adherent to "Olokun" the god of rivers," Anaedoonline.ng quoted Malcom as saying during an interaction with journalists.
The attorney claims that everyone in Nigeria, including physicians, police, military trainees, and journalists, can now wear their mode of religion in public settings as a result of the Supreme Court's ruling last week.
He continued by saying that while he was not in favor of the ruling, he was pleased with it since it enhanced and reinforced the rights guaranteed to all Nigerians by the 1999 Constitution of the Federal Republic of Nigeria, as amended.
Follow us on Facebook
Comments
comments
Post Disclaimer
The opinions, beliefs and viewpoints expressed by the author and forum participants on this website do not necessarily reflect the opinions, beliefs and viewpoints of Anaedo Online or official policies of the Anaedo Online.