Afia-Olu Nnewi cultural festival is one of the surviving cultural festivals in Nnewi which includes but is not limited to; Ikwu ahu, Ilo mmuo, Ofala na Afia-Olu.
These aforementioned festivities age over OGU AFO IRI ISE (over 250 years) or more than, in which but for the surviving Ofala and Afia-Olu.
Afia-Olu Nnewi cultural festival is an avenue for thanksgiving to God for life throughout the planting, weeding, and harvest seasons.
Afiaolu Nnewi Cultural Festival 2022, An Event That Keeps Giving
Our *PROGENITORS* in their wisdom decided to dedicate this bountiful harvest and being alive to harvest what was planted to the mighty hand of the creator of the universe, thus; the Afia-Olu festival.
In their wisdom also, they dedicated a day each to the four quarters of Nnewi thus: Otolo, Uruagu, Umudim, and Nnewichi for a special celebration.
Because Afia-Olu is designed also to display the bountiful harvest from the different quarters of Nnewi, it serves as an avenue to share love, renew friendship, and provokes resilience in putting extra efforts towards farming not just for the family, but to boast self-sufficiency in food production.
Afia-Olu Nnewi cultural festival which can be traced to be over OGU aho iri ise has been modernized to be more colourful and eventful.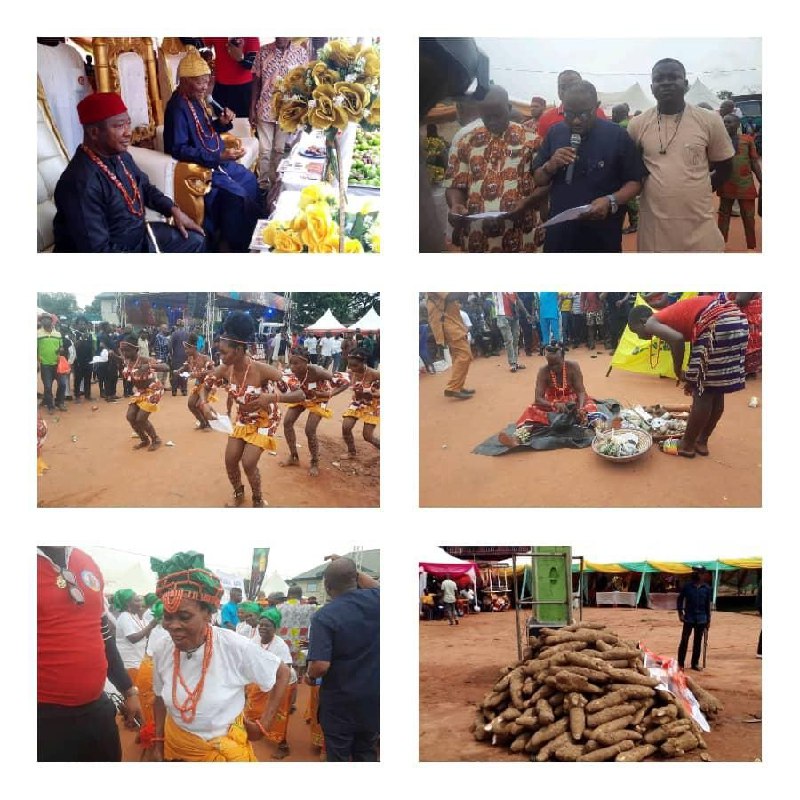 Chief Barr. Olisa Metuh Celebrates Afiaolu Nnewi Festival With Kinsmen.
For 2022 Afia-Olu festival, *The Dr. MADUKA Atueyi* led Nzuko-Ora took a pragmatic approach to this year's festival which saw a massive progression..
The Afia-Olu festival turned out to be a carnival of festivities which attracted the Guinness international breweries as one of the official sponsors. The presence of traditional dance groups of the young, middle-aged, and aged. The igba mmanwu even from our neighboring town, to the award of Di JI and to the traditional wrestling competition which saw Umudim as the winner of this year's competition.
The most important aspect is the cutting of yam by the Igwe Nnewi joined with other Obis which traditionally signifies that every Umu Nnewi can now eat new yam since the God of harvest has been appreciated as the Igwe and the Obis have eaten the new yam.
AFIAOLU NNEWI: Nnewi Traditional Ruler Rejects Gifts From Senator Ifeanyi Ubah (Photos)
Through the tenacity of Atueyi the PG, cases of violent crimes which were prominent in previous Afia-Olu were almost zero as the Nzuko-Ora organized a highly powerful surveillance and response security men with the maximum corporation with all villages to record this great successful celebration.
It is indeed a memorial.
Credit: Uzondu Chijioke.
Follow us on Facebook
Comments
comments
Post Disclaimer
The opinions, beliefs and viewpoints expressed by the author and forum participants on this website do not necessarily reflect the opinions, beliefs and viewpoints of Anaedo Online or official policies of the Anaedo Online.