Atiku Abubakar, the Peoples Democratic Party's presidential candidate, came under fire on social media on Friday after denouncing the killing of Abdulsamad Lawani, a Nigerian citizen, in Germany.
Nigerians were incensed by the former vice president's action and brought up Deborah Samuel, a Christian student at Shehu Shagari College of Education in Sokoto who was brutally murdered in May 2022 by other students for allegedly blaspheming Prophet Muhammad.
Deborah's death was denounced by Atiku in a tweet, but he later removed it and apologized on his Facebook page.
UPDATE: Why I Deleted Deborah's Murder Tweet – Atiku
Condemning Deborah's death, a tweet via Atiku's verified page had read, "There cannot be a justification for such gruesome murder. Deborah Yakubu was murdered and all those behind her death must be brought to justice. My condolences to her family and friends."
The former vice president, however, clarified that he was not responsible for the deleted tweet in a post on his verified Hausa page. Additionally, he claimed that any social media post lacking the letters "A. A." was not his.
"This evening I received information that a post was made that doesn't agree with my orders. I use this to announce that any post without A. A. is not from me. May God protect us," he wrote in Hausa language.
In a sudden change of events, Atiku on Friday condemned the killing of the Nigerian living in Germany, Lawani, on both his Facebook and Twitter profiles, despite the specifics of what happened weren't made public.
Fear As Sokoto Residents Plan Mass Protest Over Arrest Of Deborah's Killers
The former vice president wrote, "It is with deep pain that I learnt of the gruesome murder of a young Nigerian in Germany, Abdulsamad Lawani. My thoughts and prayers are with the family and friends and the Diapora at this time of grief. May his soul rest in peace, -A.A."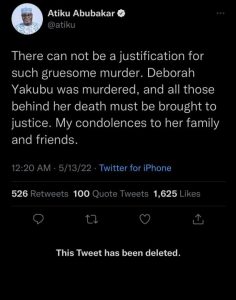 Following his condemnation message, a tweep, S.Kabiru wrote, "Every four year looking for votes empathy. Once you lose now you'll shut down again like Ajaokuta. May the soul of the faithful departed find repose."
Another tweep, Sochi, wrote, "What about the gruesome murder of Deborah?? Your account is usually active every for years."
A tweep, Akparawa Wilson, wrote, "I personally cant take you serious except you bring back this tweet (the deleted tweet condemning Deborah's death)," sharing a picture of the now deleted tweet.
Another tweep, Savage God, who wrote in Pidgin English said, "Make una dey see hypocrite of the highest order. See…way dey form him care, same man who deleted tweet about the murder of DEBORAH some few months ago. Baba…Nigerians eye don open reach back."
Simon Ekpa Reveals What Deborah's Killing Has Done To Atiku, Northern Muslims
However, Atiku provided an explanation for why he removed the tweet that condemned the killing of Deborah during the Channels Television town hall meeting in December.
He reiterated that he deleted the tweet he had previously sent out condemning Deborah's slaying because it had been forwarded without his consent.
Follow us on Facebook
Comments
comments
Post Disclaimer
The opinions, beliefs and viewpoints expressed by the author and forum participants on this website do not necessarily reflect the opinions, beliefs and viewpoints of Anaedo Online or official policies of the Anaedo Online.