According to German authorities, a gunman on Friday, March 10, killed seven people at a Jehovah's Witness Kingdom Hall in Hamburg, Germany.
Police were initially unaware of how many shooters may have been involved in the killings in the northern German city about 9 p.m. local time (3 p.m. ET), but additional information revealed that there was just one assailant, who died at the site.
According to Hamburg police spokesperson Holger Vehren, when officers arrived at the scene of the call, they discovered dead and injured persons on the ground level where an event was happening.
When the police entered the building, they also heard a shot on the top level, where they discovered a body.
More footage from the scene showed numerous armed police officers inside and around the Kingdom Hall while a helicopter flew overhead. A bomb disposal team was deployed at one point.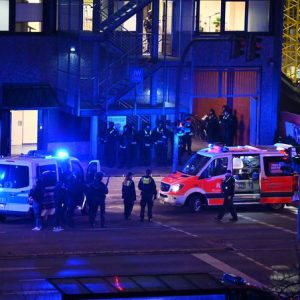 The streets around the place of worship have been cordoned off, and police earlier warned of "extreme danger" in the area, the spokesperson added
"Eight people are dead – including the alleged perpetrator," Hamburg's police said in a statement. "Other people were injured in the incident, some seriously."
The Jehovah's Witnesses in Germany said in a statement: "The religious community is deeply saddened by the horrific attack on its members at the Kingdom Hall in Hamburg after a religious service."
"At present, we believe there is one perpetrator," Hamburg police said in their latest update on their Twitter account, hours after armed officers scoured the scene for evidence and suspects.
"All police measures in the vicinity are being successively discontinued. The investigation into the circumstances of the crime continues."
German Police Probe Jehovah's Witness Centre Shooting, 8 Dead
German Chancellor Olaf Scholz denouncing shooting in a statement.
"Several members of a Jehovah community fell victim to a brutal act of violence last night. My thoughts are with them and their loved ones," he wrote on Twitter.
EU Commissioner for Home Affairs Ylva Johansson wrote on Twitter: "A shocking attack on a church in GrossBorstel, Hamburg last night. My thoughts are with the victims and their families.
"Thanks to @PolizeiHamburg who responded to the attack immediately and with incredible bravery."
There is "no confirmed information on the motive for the crime," police said on Twitter as they urged people not to share any unconfirmed assumptions.
This is not the first shooting spree recorded in Germany in recent times.
In January 2022, at least one person was killed after a man opened fire on students in a lecture hall at Heidelberg University in southwestern Germany.
In 2020, a mass shooting at two shisha bars in Hanau killed several people.
Watch the video below…
Follow us on facebook
Comments
comments
Post Disclaimer
The opinions, beliefs and viewpoints expressed by the author and forum participants on this website do not necessarily reflect the opinions, beliefs and viewpoints of Anaedo Online or official policies of the Anaedo Online.