When people talk about their culture, interests are immediately focused on their language, food, belief, and dressing. Other micro aspects of their culture are neglected, these aspects often times tell their stories better, one of such aspects is the art of dancing. Dance is one of the best art forms of expression, stories and messages are told through this art medium.  Igbo dance is an art, Igbo dance is an expression of culture, when it goes with those melodic chants and songs it showcases the beauty of the language of a people or a person.
Dancing is also known as an outlet for emotion, dancers are known to bare their soul on stage, the same way tribes and people express their culture through dance. It is not uncommon to see people dancing in celebration or thanksgiving 
The Igbo people of southeastern Nigeria are known for their cultural abundance. The Igbos are known to perform dances that express a broad range of emotions from frenetic dances to sad slow dance according to the occasion. These dances are used to convey stories of morals, conquer, celebration, etc
Across Igboland, each region has a dance to particular to them, like the Bende people of Abia State are known for their war dance displayed by able-bodied men, the people of Imo State and their waist dance are no less famous, Enugu people are known for their beautiful ogene dance, so other regions have dance steps that are unique to them. 
People gyrate in order to celebrate, commemorate, or even to prepare for some ritual.
Atilogwu dance
The name 'Atilogwu' loosely translates to 'is magic/jazz inside or involved', the name is used to refer to the energetic prowess that is displayed by the dancer that is considered extraordinary and near impossible, hence, the reference to Jazz.
Atilogwu is arguably the most popular of Igbo traditional dances, it is one of the most exported Igbo dances. 
Atilogwu is a captivating spirited youth dance, that involves a lot of acrobatics and body movement. The nature of this dance makes it compulsory that it is only agile youths that can take part in it, it requires rigorous steps and energy-sapping steps. It involves flips and jumps and takes years to master.
Atilogwu is a fusion of five dances which include: Anam, Ogwulogwu, Anaku, Ochanja, and Adunjaja. For others, it is a combination of Mgbaga, Ogwulogwu, Otiokpokpo, Ochufulu, and Egwu-Igba.
It is performed during important occasions and festivals. It is said to have originated from the Enugu state region.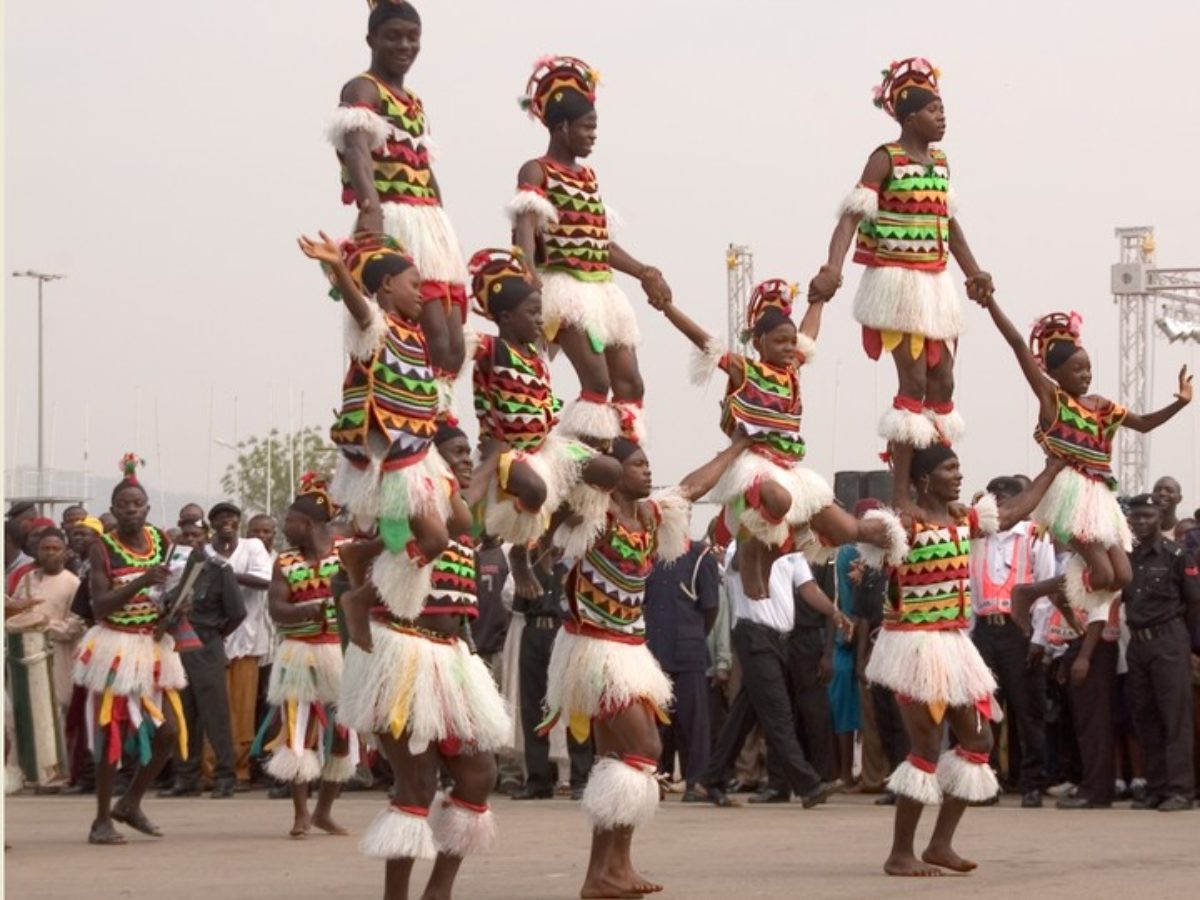 Egwu Ogene 
Egwu Ogene is a delectable leg work dance that originated from the people of the Northern Enugu region and some parts of Anambra. 
It is another popular Igbo traditional dance, it has been incorporated into several hip-hop music videos. Some call it the Achikolo dance. 
It is performed to the sound of an ancient Igbo music instrument called 'Ogene'. Even though Ogene is the main instrument, it is not the only musical instrument that produces the Ogene dance melody, other instruments make up the ogene music melodious tone. Ogene, Oja or Opi, Igba, Abia, Oyo or Ichaka, Udu, and sometimes Ekwe are part of the melody.
Ikpirikpi ogu dance (War Dance)
Popularly known as 'the Ohafia War dance'. Ikpirikpi Ogu dance is a war dance, particular to the people of Ohafia in Abia State. 
It is a traditional war dance used to tell stories of men of valor in the olden days. The people of Ohafia during the ancient Igbo times were known for their brave men who sought war themselves. Their warrior tradition remains a fundamental part of them, hence, the Ikpirikpi war dance lives on.
All Igbo Masquerades' Names Listed And Described
The war dance is performed by a group of muscular men lead by a dancer carrying a basket full of skulls while brandishing a cutlass with a palm shoot in his mouth, the others follow portraying gestures of beheading, all dressed like fierce warriors. They display while dancing to their Akwatankwa musical instrument.
It is usually performed during the celebration of great men.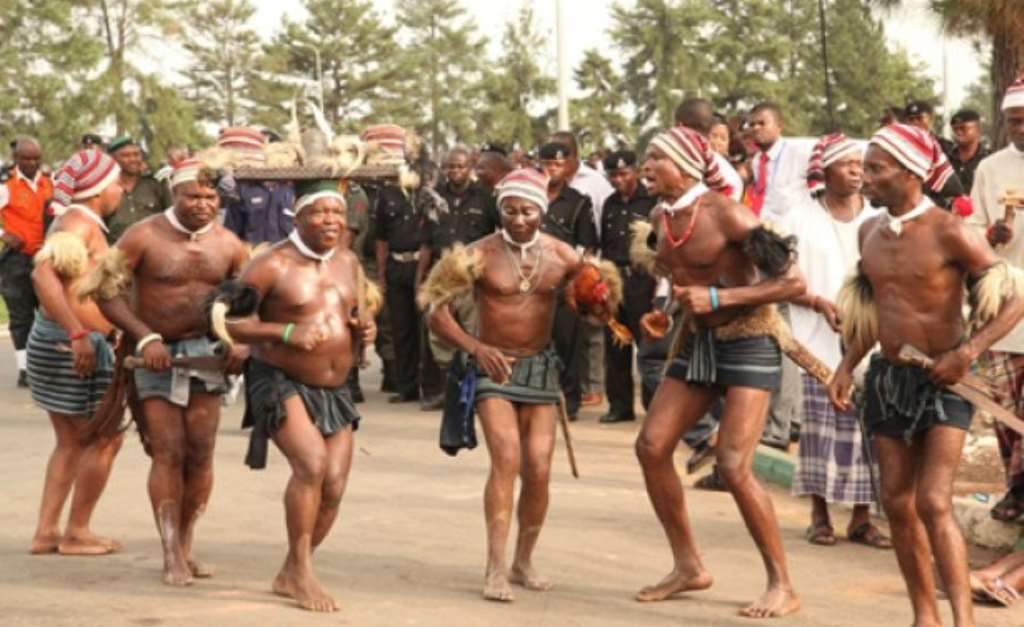 Nkwa Umuagbogho
This traditional Igbo dance is peculiar to the Afikpo people in Ebonyi State.
Ngwa Umuagbogho is a dance step that is secluded to young maidens only, it is important to note that almost every Igbo community has a dance that is particular to their maiden but it goes by different names. Ngwa Umuagbogho is more popular than others.
It involves the gracious movement of the body by the maiden with vigorous shaking of the lower part of their body. The maidens flaunt their body in a seductive manner to show that they have come of age for marriage.
Egedege dance
Egedege dance is a royal traditional dance, made popular by Queen Theresa Onuorah of Unubi, Anambra State. 
It is a reincarnated dance that is as ancient as the Igbo people, in the earlier times it was performed by the youths during the moonlight. 
In recent times, Egedege dance has been remodeled to fit the modern norms. It is a combination of songs, dance, and instruments which is accompanied by very bright costumes. 
A unique fluting introduces the dance, followed by an entrance by the queen leading the dancers, she is carried in by one man under an umbrella. 
Aku na eche enyi (Igba ndi Eze)
This is a dance for Kings, Aku na eche enyi, also known as  Igba ndi Eze is used to welcome/usher kings and titled men and women into occasions. It is also used to welcome special guests. 
Mmanwu dance
This is a dance for the spirits, the Igbo masquerades. One of the most prominent features of Igbo masquerade is their dance skills, it still remains a mystery how they can dance with so much energy for a long period.
Egwu mmanwu is not only performed by the masquerade, members of the secret societies/initiates perform this dance. It is a delight to watch masquerades perform. 
Each masquerade have their unique dance step named after them; Egwu Ijele, Adamma
Omuru-onwa/Agbach Ekuru Nwa
This dance is strictly secluded to married women for some traditional reasons.
The dance steps entail the responsive movement of the body in a swerving fashion of the hips in tune with a rhythm.
The women are arrayed in uniform wear which includes a blouse, usually white, double wrapper tied on top of the other with the one underneath covering the leg entirely, while the other hangs below the knee, it goes with headgear to complement the dressing.
The dance is aimed at helping the mothers shed motherhood fat through their weekly rehearsals.
Abigbo and Ekere-Avu dances
These dances were used in the olden days as mediums of social criticism, mainly in the parts of Mbaise, Imo State.
It is an entertaining dance that showcases social ills in a light manner, through Abigbo, people could collectively voice out criticisms on governments and powerful people in the society, which otherwise a single person could not do without being victimized.
Oge/Ese dance
Otherwise known as the Funeral dance, it is a two versioned dance that performed at burials.
It is a popular dance amongst the Igbos, but not known by people outside the tribe. Also called the Oge dance in some parts of Igbo land, the dance is two versioned; Ese-ike and Ese-ala.
The 'Ese-ike' is played only on an elevated platform to celebrate the life of a well-accomplished man, while 'Ese-Ala' was played on the ground with an array of talking drums and xylophones to celebrate the life of an outstanding woman.
The dance is performed by elderly men to the sound of xylophones (Ikpa) Ekwe slit-drums and Abia cylinder drum.
The traditional Igbo dance will take you through a rollercoaster of emotions at the same time imparting wisdom to you, take out time to watch an Igbo dance when next you attend an event.
Follow us on Facebook
Comments
comments