There is no truer way to experience people's culture than through their food. The indigenous people of Enugu State people of the southeast region of Nigerian are people of diverse cultures and at the center of its culture is their food. They pride on having the most number of delicacies in the southeast region. As Robert Irvine said, "Food is culture, we need to listen to it", whenever you visit Enugu State, be sure to listen to these dishes. Here are the top dishes from Enugu State.
Fio-Fio
To the students and workers alike in Enugu State, Fio-Fio bu "Ozo Igbo ndu", saving lives for generations. After the tedious morning rush with little or no breakfast, midday has everyone rushing to fill their stomach with this delicacy. A quick tour of its urban areas shows a number of bukkas littered here and there, roasted yams on display with a steaming heavy pot beside it, filled with Fio-Fio otherwise known as Pidgeon pea in English.
Pigeon pea is classified under the family of legumes just like beans, it has a sweet, mildly nutty, and earthy flavor.
For decades, this sumptuous delicacy has ranked on top of the radar of Enugu residents. It is delicious, hearty, and very filling, little wonder it's a favorite for students and labourers alike.
Despite the popularity of other dishes around, Fio-fio remains, arguably, the King of outdoor delicacies in Enugu. It goes with a powerful combo of yam and vegetables that satisfies your hunger. 
This delicious meal is called Ayaraya Ji among the Nsukka people in Enugu State. It is a very rich source of protein and carbohydrates.
A grey area to this, is the length of time it takes to cook. If other types of beans take a yard to cook, pigeon peas take a mile. This can be shortened by using a pressure pot, in the absence of which, you give it a long overnight soak. 
Abacha
Abacha is one popular Igbo food that has caused rancor many times, online and offline. It could be said to be a general Igbo dish but some people point its origin to the people of Enugu, this is not without reason of course, as they are known to whip up one of the most salivating Abach you would ever come across.  
Abacha otherwise called African salad is a meal that can serve as an appetizer, snack, or a main dish, any way you want it. The name African salad is said to have originated from the assumption that salad is made of raw fresh vegetables and Abacha is made up of raw African vegetables. 
Where to eat the best abacha in Enugu
It has an aesthetic appeal to the eyes, from the yellowish abacha to the green vegetable and red pepper.
The main Abacha is made up of tiny shredded cassava that has been sun-dried after it must have been boiled. 
There are several abacha spots in Enugu, make sure you try this before leaving. 
Ofe Awa 
Originally from the Nkanu area of Enugu state, Awa soup popularly called Ofe Ewa is similar to Ofe Onugbu. It is made with Awa leafy vegetables which are also bitter.
The delicious finger-bitting soup is like an official traditional soup always present during any ceremony in the community like marriages, important meetings, festivals, et cetera.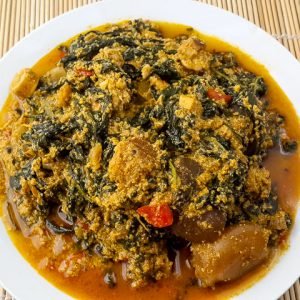 Due to the bitterness of the leaf, extra care is taken to wash it. It is then shredded into bits with fingers, but leaving it long is the traditional norm and is believed to add to the flavor of Ofe Awa. The leaf is mostly cooked with egusi, In line with other condiments and ingredients.
Okpa
In every nooks and cranny of Enugu State, you'd see an Okpa vendor. Today, it is not just Enugu State, Okpa has permeated every eastern state.
We are not sure this applies as a dish, but there is no way you will mention Enugu and food and Okpa will not pop up. It's almost synonymous with the state. 
Rightfully titled "The Lion's food or the King's meal", Okpa traditional Enugu meal that is believed to have originated from the Nsukka area of the state.
Here's a post we wrote on how to prepare okpa, the Nsukka way
Okpa is made from Bambara flour gotten of the Bambara nut. It is very easy to make, requires a few ingredients, and is ready to eat in no less than 45 minutes. It is usually wrapped in banana leaves, though some people use nylons, the local leaves are believed to add more flavor.
You have not been to Enugu if you haven't tasted this versatile dish, it goes with practically anything from cold coke to 
Achicha Ede
Achicha Ede is one of the most traditional Igbo meals and one of the best dishes from Enugu State. It is a delicacy which has cocoyam as the main ingredient. Achicha Ede is a cocoyam pottage prepared with dried cocoyam flakes and is often served with African salad.
The cocoyam is shredded and then left to dry for some days, then stored away for preparation of the main delicacy. You cannot possibly visit the coal city and not have a taste of this meal. 
Follow us on Twitter
Comments
comments
Post Disclaimer
The opinions, beliefs and viewpoints expressed by the author and forum participants on this website do not necessarily reflect the opinions, beliefs and viewpoints of Anaedo Online or official policies of the Anaedo Online.