In July 2019, the Federal Government of Nigeria announced that they have signed a power project deal (PPI) with the German firm Siemens AG with the aim of increasing Nigeria's electricity generation to 25,000 megawatts (MW) in six years. The deal was worth 2 billion dollars.
In that time, the Minister of Finance, Zainab Ahmed, pointed out that Nigeria lost over $1 billion annually due to technical and commercial inefficiencies along the electrification value chain. She said: "The PPI will help eliminate these inefficiencies and unlock economic value for the country."
Saleh Mamman, Minister of Power, said, "This significant, timely and high-level intervention between President Buhari and Chancellor Merkel addresses critical infrastructure deficits in the value chain and helps reposition the power sector to become more attractive, viable, and investable."
Tolu Ogunlesi, a media aide to President Muhammadu Buhari had said the "quick-win" measures to increase the end-to-end operational capacity of Nigeria's electricity grid to 7 GW.
This is the structure of the payment plan released by Buhari's media team:
Structure of the PPI funding:
85% from a consortium of banks, guaranteed by the German government through credit insurance firm, Euler Hermes.
15 % of FG's counterpart funding.
2–3 years moratorium.
10–12 years repayment, at concessionary interest rates.
It was a deal for APC and they used it as a talking point of their achievement. They milked it.
Two years later, the Nigerian power grid is yet to see the effect of the Siemens deal. And as this is Nigeria a country where people hardly keep count, a place where accountability is a big deal it seemed like the deal has been forgotten and it may be buried.
But Chimamanda said no. She spoke out.
The well-known feminist and author Chimamanda Ngozi Adichie and German Chancellor Angela Merkel were the guest speakers at a panel held at the Düsseldorf's Schauspielhaus theater last week. They also had present journalists and entrepreneurs Miriam Meckel and Lea Steinacker.
According to DW, their discussion focused on their own commonalities and differences, particularly as women.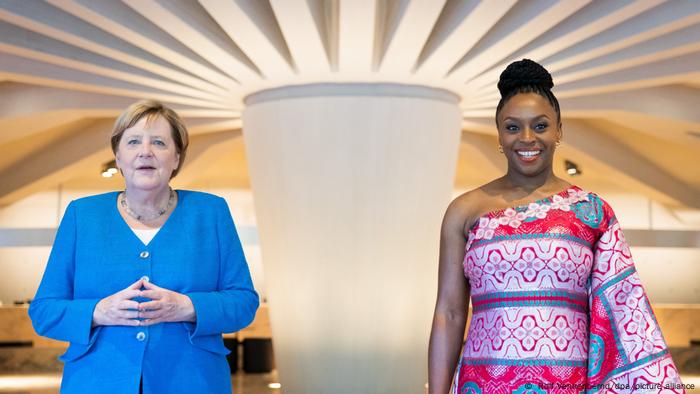 But Chimamanda asked about Nigeria, she asked about the power pact with Siemens which Merkel was said to have been aware of.
"We were told in 2019," Cimamnada began, "that Siemens had done this miraculous work in Egypt and Afghanistan, and maybe, Iran and that Siemens will then fix our electricity problem which has been the bane of Nigeria since independence, and we were told this has the backing of Chancellor Merkel and the Germa Government."
Read this – What is the exit plan for Ghost Mondays and other sit-at-home exercises
"I am still wondering why we don't have electricity," she concluded to a mixture of laughter and cheers from the audience.
Chancellor Merkel looked surprised by this question. She had no clue about this agreement. But she is a politician and wouldn't say "I don't know about this" on national TV streamed worldwide.
She said, "I will make a point of asking Siemens what happened"; then she recounted that, as with cases as this, the biggest challenge is funding and the fact that African government usually insist that local content (infrastructure) be used up to fifty percent and that corporations struggle to get this.
She said this was a problem in a similar project in Ghana. The chancellor knew about the project in Ghana but didn't know about the APC-touted project in Nigeria.
In conclusion, she said to Chimamanda, "I will get back to you on this."
Connect with us on Pinterest
Comments
comments