A young man has lamented about how his girlfriend bragged to her friends, that he shows his undying love by washing her pants.
The young man also revealed he felt so bad when the friends of his girlfriend complimented him about it one day, and since then everything has gone sour in their relationship.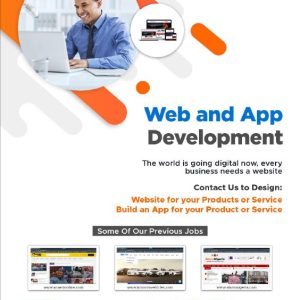 LADIES MAN: See What Laycon 'BBNaija Star' Said About Girls
He has now asked for advice from social media while pleading anonymity.
In his words;
"Good Morning, pls post and hide my identity. I know there's no particular manual to a relationship but love my girl and I do what I can do by her just to make her happy. When she comes to my house to spend some time, maybe like two weeks, she will soak her pant in the bucket that we use to bathe. I don't like complaining too much so if I want to use the bucket will just help her wash and spread it and she would say thank you. I neverknew she was using it to brag to her friends that I'm washing her pant. And I just did it twice.
or thrice and that was it. It was one day when her friends came around, we were all just joking around so they were talking about the kind of man they want. One of them now said she wants a man like me, (Tejiri's man) that will be washing her pant and see nothing wrong with it unlike some egolistic men. Yeah I know they meant it as praises but I felt insulted and moreover I didn't do it for her to start blowing the trumpet about it so I just stopped completely and now she's getting all salty about it cos I told her how bad I felt that she told her friends. She apologized and felt things will go back to the way they were but when she came and soaked her pant, I went to borrow my neighbor's bucket to bathe. Till now she is not talking to me again. What I did is it wrong? Pls advise me on how to sort this out."
Refer to his post below: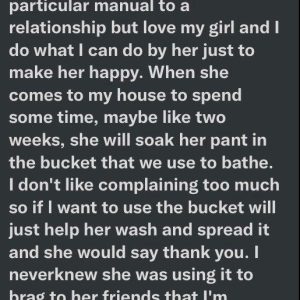 Lady Flaunts 'Romantic' Boyfriend Washing Her Pant (Video)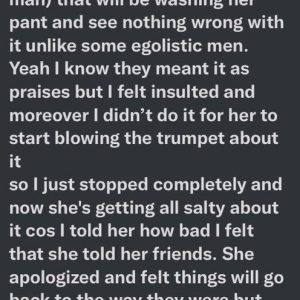 Follow us on Instagram
Comments
comments
Post Disclaimer
The opinions, beliefs and viewpoints expressed by the author and forum participants on this website do not necessarily reflect the opinions, beliefs and viewpoints of Anaedo Online or official policies of the Anaedo Online.