A social media user takes to the bird app to narrate an unfriendly encounter with an uncultured lady who claimed to be a banker.
BBNaija: "There's A Queue Of Shameless Women In Neo's DM" – Vee
According to the man identified by his Twitter handle as @lollypeezle, the incident occurred at a bank in Ikorodu, Lagos, when the lady in question tried to manoeuvre her way to the front of a queue that was moving sequentially and when she was stopped by the security man, she wreaked havoc, so much so that she extended her anger to the narrator, who in turn served her a bite of her cake.
Narrating the story, he wrote:
"So i went to the bank in Ikorodu this afternoon to make a transfer and on getting there, i met a huge crowd outside waiting for their turn to go in. I joined in waiting and immediately it was my turn, a woman from nowhere jumped queue and was rushing to enter…
The security officer blocked her way and she pushed him back but the man quickly used the door to block her, then the drama ensued. "Do you know who i am" "you are a stupid man" "you are crazy, a fool, do you know who you are blocking, you wanted to wound me abi…
…you must be stupid, you are just a mere security man and you want to wound me, i am a banker her and you don't expect me to queue". The chief security intervened "madam, no vex. You should have waited and you don't expect him to know you are a banker…
Zenith Bank Wins The Most Valuable Nigerian Banking Brand For 2021
…he thought you are a customer who was jumping queue"
Aunty flared up "he is a stupid guy and i will slap him for that"
The security guy replied "i go too beat you up if you try it. How will i know you are a banker here? I have never seen you as our staff before…
She shouted "you will beat me? I will make sure you regret this. You are losing your job today. A mere security guy that's making 12k monthly"
I wanted to talk but the spirit of God in me said i shouldn't talk, so I entered the bank and she did as well ..
Immediately we got in, she went straight to the manager, shouting in the bank and all. Madam, o ti to, the bank manager tried to pacify her but she wasn't calm. She explained that the guy threatened to beat her up, that he wounded her, he did this, he did that ..
Throughout her shouts, i didn't talk. Then a woman who also saw the scene downstairs started rebuking her that she started the brouhaha, she quickly shut the woman up. They summoned the CSO but as the man was explaining, she kept using big English to win her case…
Then the spirit came back to me like "Lola Oya".
So i confronted her in her high tone. I told her how condescending she was. I explained all that happened to the manager and the crowd in the bank loved it. She shouted at me calling me fool, ode, oponu..
but i finished her. She went low, i went lower. I told everyone all she said to the security man and how uncouth she was. She turned on me but jigbin ni mo wa bi ibon.
I put her in her place. The werey shouting "i am a banker" since is actually Lapo officer…
…who frequents the bank for transactions and so, the bank manager used to give her preference. She sees herself as a staff and so expected the security man to see her as one too but the man didn't even know her. He sees her as a customer…
She insulted me though and it pained me, so i said she looks like labe orun. It pained her too. I happy die
Fighting for the man really made my day and the man's day. It made everyone's day in the bank. She was really embarrassed. I told her how she lacks manner…
So uncouth and disrespectful. Madam left the bank with "I will take this up"
We won."
See the tweets below;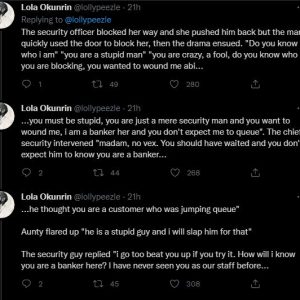 Comments
comments