A South African lady is happy that she summoned the courage to shoot her shot at a man she likes because it ended in a relationship.
Mazeni hopped on the 'How It Started Vs How It's Going' trend and showed her followers,  how it's going so far, after she met her current boyfriend during an online interaction.
The man who is now her boyfriend posted a photo of a wine in October 2020, and said he likes it.
Be Bold To Release Names Of Boko Haram Sponsors – Kukah To Buhari
In response, the lady, Mazeni quoted his tweet and replied his post by shooting her shot.
He had tweeted;
"Tasted this wine at Spur and I never looked back."
But the young lady replied, tweeting;
"I also want to taste you and never look back."
BBNaija: "I Like Cross" – Angel's Mum Speaks On Her Daughter's Love Interest
She however, has now posted a photo of them together as a couple now, and they looked cute in the photo.
See her post below: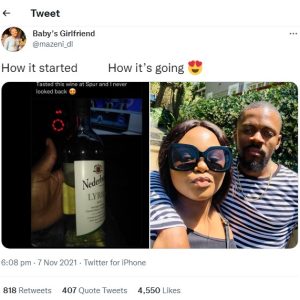 Comments
comments