The lawmaker representing Nnewi North in Anambra State House of Assembly, Hon. Nonso Smart Okafor has visited the scene of the horrific fire disaster at Umuisiedo Okpunoegbu Umudim Market, Nnewi, that razed down shops housing foodstuff and essential commodities worth millions of Naira belonging to traders within the market.
Hon. Nonso Okafor who was at the scene of the fire incident yesterday, Sunday, 2nd January, 2021, had to engage more water tankers to stop the remnant of the fire to avoid further disaster.
Expressing his sadness, the lawmaker said the he feels heartbroken that the market which is one of the busiest markets in Nnewi and dominated by women who are mostly the breadwinners of their families suffered this mishap in the early part of the year, noting that some of the traders may have possibly taken loans to stock their shops ahead of the New Year sales before the unfortunate incident.
Anambra Govt Begins Demolition Of Buildings Affected By Onitsha Fire Disaster
He noted that the fire disaster has once again has brought to the front burner the unremitting frequency of fire outbreaks in markets, admitting that the price of fire incidents is apparently huge.
According to him, traders cannot continue to suffer heartbreaks by losing their means of livelihood, recalling how Nnewi lost properties worth billions of naira due to three major fire outbreaks last year.
He called that the conversation on compulsory market insurance schemes in markets in Anambra State should begin, especially with the rate of fire disaster in the state.
The former youth leader also revealed that since the local government system in the state is not functional, every market should operate its own Fire Service Systems, instead of waiting for from Awka, noting that every major market should enforce preventive measures and provide facilities so that in the event of any fire outbreak, they can combat.
Ihiala Fire Disaster: 'We Feel Your Pains' – Andy Uba Tells Victims
He appeal to the Executive Governor of Anambra State, His Excellency, Chief Dr. Willie Obiano to provide adequate compensation for these traders and also set up a panel of inquiry to ascertain the cause of this mishap.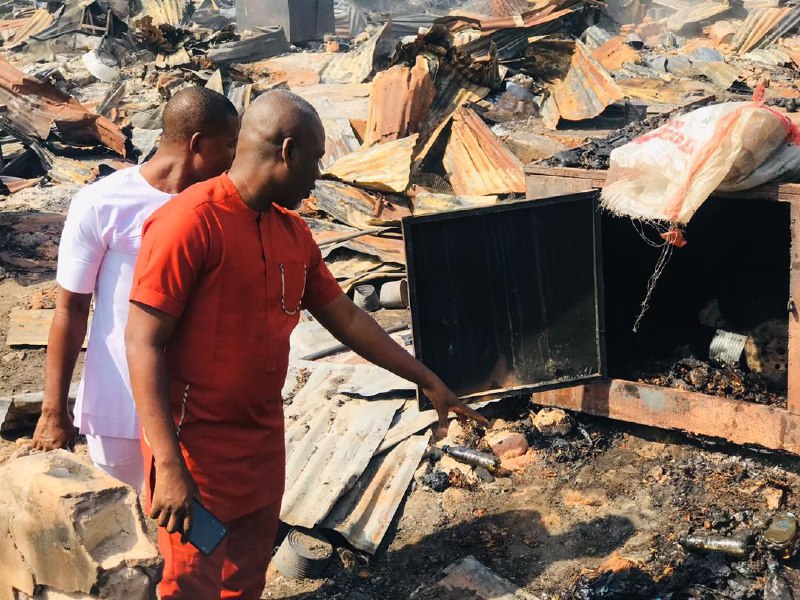 Follow us on Facebook
Comments
comments